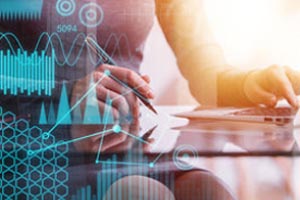 InstrumentiX was conceived in response to the rigid, expensive latency and flow monitoring solutions available in the market that fell short of delivering the critical insights and granularity of data required to help firms understand and then improve firm-wide oversight and mitigate operational and regulatory risk, assist with compliance obligations and enhance execution performance.
Our management team has delivered high profile, high performing flow monitoring and associated technology projects for investment banks and trading venues, and implemented and supported these complex platforms to deliver business-wide efficiencies and return on investment. We believe this makes us highly qualified to understand the challenges our customers are facing and to develop solutions to help them address them.
Leadership Team
Steve Hicks
Founder and CTO
With over 20 years experience in capital markets Steve has held key technical positions at the London International Financial Futures & Options Exchange (LIFFE) and several Investment Banks including Deutsche Bank, UBS and ABN AMRO. Steve has spent many years designing trading platform deployments and Venue connectivity in proximity, CoLo and campus environments and before founding Instrumentix had, for several years, focused on the delivery of Instrumentation and Flow Monitoring for these critical systems. Steve has a passion for open systems, holistic performance telemetry and integration which has driven the design of xMetrics and underpins our desire to provide the most open and data-rich Flow Monitoring platform available
.
Clive Posselt
Commercial Director
Clive has a wealth of experience in electronic markets having held senior sales, sales trading and business development positions at Hoenig & Company, Lehman Brothers, Instinet and Barclays.


He also served as Barclays Head of Market Structure for Equities Markets in Europe and chaired the firms best execution committee.

Valerii Valeev
Core Product Architect
Since 1999 Valerii has worked in both Academia and Commercial Software Development. He has broad capital markets experience from his time as a software architect at DataArt where he lead projects specialising in networking, performance monitoring, nix systems and high-load. Many of the solutions he architected during this time remain prevalent in the market today.


Valerii also worked as an engineer at at The Russian Academy of Science gaining extensive experience in network management and distributed systems.
Zena Watt
Head of Communications & Marketing
Zena has extensive Financial Services experience at both exchanges & investment banks. Her core expertise is in Corporate Communications, Business Development and Program Management.

Whilst at UBS, Zena was Global Head of Intranet, Extranet and Internet services.